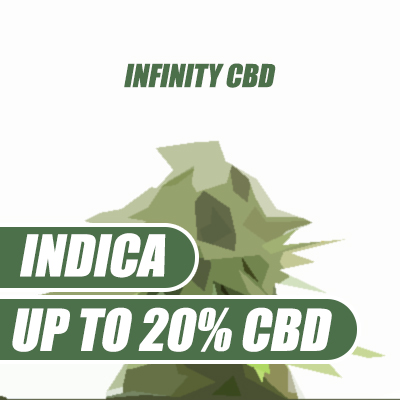 TAG`s
Useful Strain Information
Infinity CBD Seeds
CBD Infinity will take you beyond your ailments and into contented bliss. This heavy CBD strain, >17%, brings a wealth of medicinal value without the soaring cerebral high. The rich terpene profile of caryophyllene, a-pinene, and b-myrcene offers a myriad of benefits for different mental and physical ailments and an unbeatable flavor that is intoxicating in its own right. The low THC, around 1%, means you will be able to carry out your daily tasks with mental clarity. This indica dominant hybrid is perfect for evening use, as it will eradicate your discomforts and allow you to slip peacefully into a restful, rejuvenating sleep. When you buy CBD Infinity Photo Fem seeds online in the Canada through Weed Seeds, you can rest assured you are getting pure, premium seeds alongside unwavering support. Get this alluring strain into your stash as soon as possible!
Order Infinity CBD Seeds Online
Growing Details
| | |
| --- | --- |
| Indica / Sativa / Hybrid | Hybrid - Indica |
| THC Percentage | less than 1% |
| CBD Percentage | up to 17% |
| Indoor Yield | 350-450g per square meter |
| Outdoor Yield | 500-600g per plant |
| Flower Time | 8-9 weeks |
| Wellness Benefits | Anxiety, Arthritis, Crohn's Disease, Cramps, Fatigue, Insomnia, Migraines, Pain |
| Effects | Medicinal, Relaxing, Pain |
| Aroma & Flavors | Diesel, Aroma |
| Terpenes | Alpha-pinene, Alpha Humele, Linalool |
Asked & Answered Questions
How much THC does Infinity have ?
less than 1%
How much CBD does Infinity have ?
up to 17%
Popular Seeds For Sale